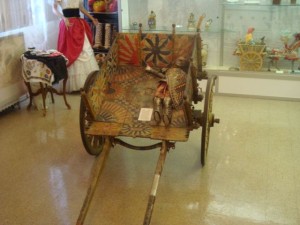 The Sicilian Heritage Museum was founded in 2004 by Josette Mentesana Weber in collaboration with the Regional Association of Sicilians in America and the Sicilian American Cultural Association. It is located on the second floor of the Italian Cultural Center in Stone Park, Illinois.
Our primary goal is to inform the public about Sicilian culture past and present. Our current exhibits focus on the handicrafts of Sicily: needlework, ceramics, cart-painting, and jewelry design. We are also pleased to have traditional costumes of the late 19th/20th Century.
There are also numerous photographs of life in Sicily which provide portals to future exhibits. A real jewel of our museum is the artwork of John Bucci depicting a breathtaking view of Mount Etna, a symbol of home to all Sicilians.
A good museum is always a work-in-progress. We invite you to visit regularly to see what's new and we welcome your suggestions for upcoming exhibits.  For information on guided tours, please call Casa Italia at (708) 345-5953.