Click Here To View A Video Of Our Museums
Tours of the museum are available Monday through Friday 10:00 am to 4:00 pm
Appointment necessary for guided or self-guided tours.
Please call our office at 708.345.5933 to schedule a tour.
Click Here To View Museum Photos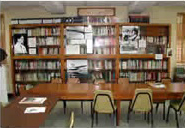 Florence Bartolomei Roselli Library – The library is a rich source of materials and serves as a comprehensive resource center for research and study of Italy. Italian documents and general materials on Italian American people, organizations and institutions. The Library has a collection of over 3,000 volumes, more than 200 file folders of pamphlets, 113 oral history transcripts and various audio/visual materials.It also offers a reading section with collections of works in both Italian and English of Italian authors, artists, historians and politicians as well as extensive information on Italy and Italians. Twenty-five percent of the books are printed in Italian.
We strive to be a resource not only to individuals, but also to schools, other libraries and organizations seeking information on Italian culture.
Immortalize YOUR Family in our Digital Archive
Please help us at the Roselli Library at Casa Italia to build a comprehensive archive of Chicago Italian Americana by becoming a Friend of the Library.  For information on guided tours, please call Casa Italia at (708) 345-5953.
Donate/share your family/community/club photos, documents, books, and memorabilia with the Casa Italia Library.  We seek items from the full history of Italians in Chicago 1850 – 2009.  You may email attachments of identified digital images (300 dpi jpg) to info@casaitaliachicago.org.

Archives of the Casa Italia Library  – This page is a repository for materials deposited in the Florence Roselli Casa  Italia Library including almost 100 oral history interviews that you can view as text and listen to as an audio file.  To view a complete catalog of our shelf holdings visit Library Thing.

Click Here to View the Archives of the Casa Italia Library

Casa Italia Library FaceBook Page
Click Here to View the Library Brochure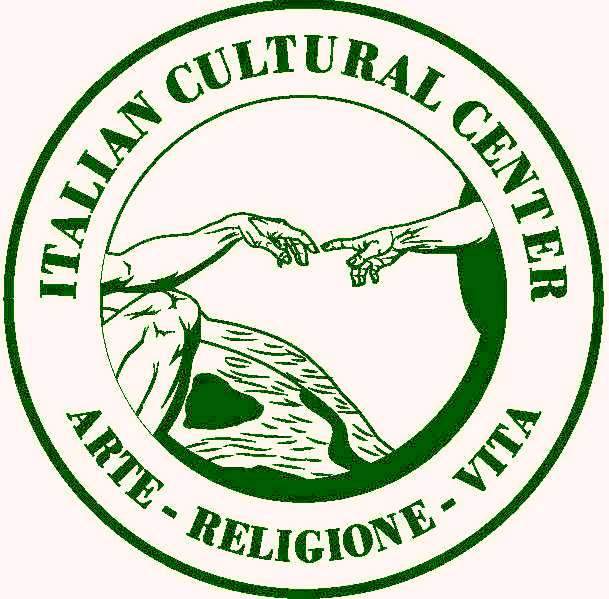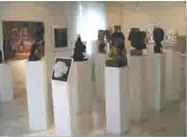 John Cadel Art Gallery – The art gallery contains the works of Italian American artists. John Cadel's painting, "The Migrants", is the focal point of the room It is, perhaps, the first exclusive Italian American art gallery in the United States. In this, as well as in other rooms of the Center, visitors can admire oil paintings, bronze sculptures, ceramics, terra cottas, origininal prints, gold and silver medals and authentic Italian crafts.
Italians In Chicago Exhibit – From Immigrant to Ethnic, there is an effort to preserve the heritage of Italians and Italian Americans in Chicago through a collection of historical photos, objects and varied materials. Included are 113 oral history tapes and transcripts as well as background materials produced by the project. We encourage tours by all clubs, schools and civic organizations.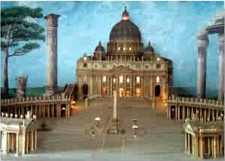 The Savoia Exhibit – This exhibit represents a 1:100 scale mode of St. Peter's Basilica in Rome. The exhibit was hand carved by Attilio and Lucio Savoia.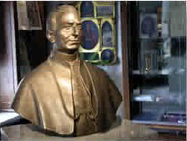 Scalabrini Museum – The Museum is dedicated to the Scalabrini fathers, an order of Missionaries founded by Blessed John Baptist Scalabrini toward the end of the last Century to assist Italian migrants and today provides that charisma to all persons on the move such as refugees..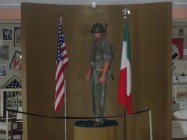 Italian-American Veterans Museum – Italian American Veterans proudly display memorabilia, trophies, flags, etc., and provide the history of the organization.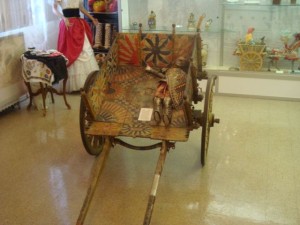 Sicilian Museum – The Sicilian Heritage Museum was founded in 2004 by Josette Mentesana Weber in collaboration with the Regional Association of Sicilians in America and the Sicilian American Cultural Association. It is located on the second floor of the Italian Cultural Center in Stone Park, Illinois.
Our primary goal is to inform the public about Sicilian culture past and present. Our current exhibits focus on the handicrafts of Sicily: needlework, ceramics, cart-painting, and jewelry design.
We are also pleased to have traditional costumes of the late 19th/20th Century. There are also numerous photographs of life in Sicily which provide portals to future exhibits. A real jewel of our museum is the artwork of John Bucci depicting a breathtaking view of Mount Etna, a symbol of home to all Sicilians.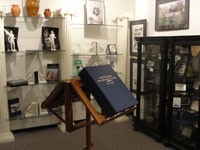 Calabresi Museum – This exhibit contains a number of memorials to individuals, as well as photos, books and aritifacts of the region.
A good museum is always a work-in-progress.  We invite you to visit regularly to see what's new and we welcome your suggestions for upcoming exhibits.