Calabresi In America Exhibit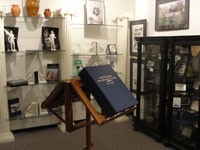 This exhibit contains a number of memorials to individuals, as well as photos, books and aritifacts of the region. 
A good museum is always a work-in-progress. We invite you to visit regularly to see what's new and we welcome your suggestions for upcoming exhibits.  For information on guided tours, please call Casa Italia at (708) 345-5953.