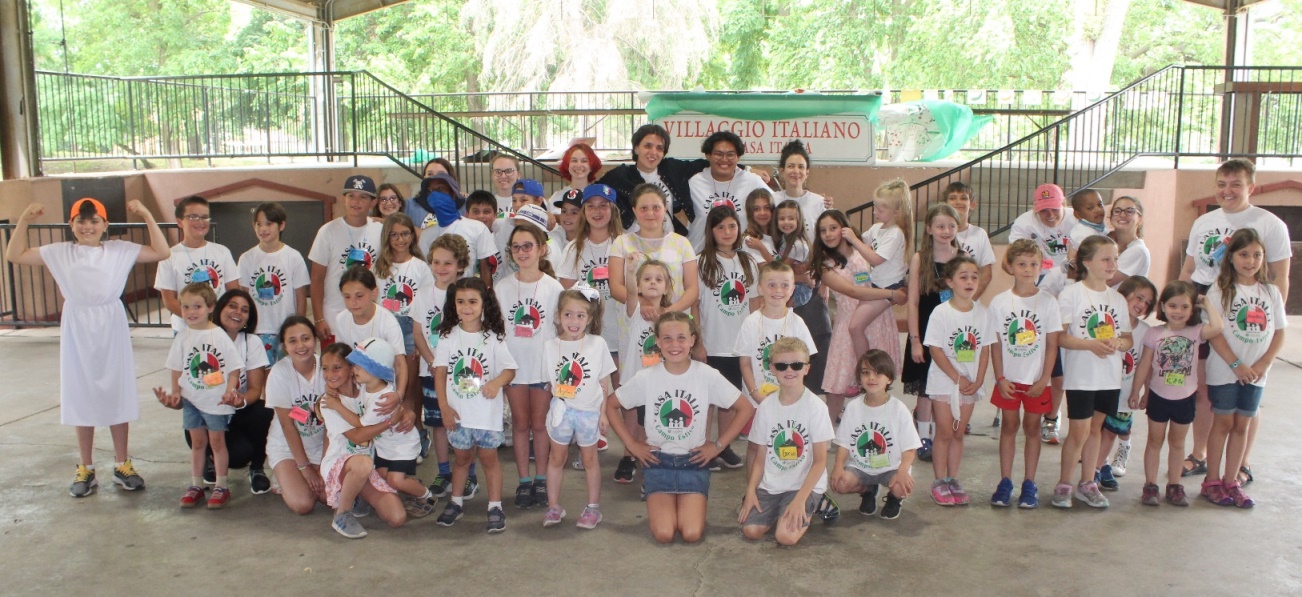 Casa Italia is proud to present
a whole new world of learning and fun at our
2023 Italian Language and Culture Camp
June 19 – 23 and June 26 – 30
If you want to send your kids to Italy this summer while keeping them close to home, Casa Italia has the summer camp for you! Our camp introduces children ages 5-12 to the best Italy has to offer through a wide range of activities on our beautiful and secure grounds.
Our campers will spend two full weeks immersed in the language and culture of Italy through games, songs, sports, skits, gardening, cooking, and formal and informal lessons. They'll finish their adventure speaking and thinking a little more like an Italian than when they started!
We're proud to announce that our new director is Raffaella Spilotro. An award-winning language instructor who taught high school Italian for many years, Raffaella spent part of her childhood in Italy and has spoken Italian her entire life.




Raffaella is putting together a curricular staff stocked with experienced and gifted Italian language instructors, supported by a team of enthusiastic and talented students drawn from the ranks of upper-level Italian classes.
Our camp runs Monday through Friday from 9:30 a.m.-3:30 p.m. Fees cover a nutritious lunch, snacks throughout the day and a complimentary T-shirt. Extended hours are available for an additional fee. The camp concludes with a performance by the children and a family picnic luncheon.
We look forward to taking your child on a magical Italian adventure this summer. Andiamo!
Due to staffing limitations, registration will be limited this y

ear to last year's campers with room for only a limited number of additional campers.  Registration will be suspended as soon as the maximum number of campers is reached.
Before and after camp sessions will run from 8 to 9:30 a.m. and 3:30 to 5 p.m., Monday through Friday, both weeks of camp, for a total of 20 sessions. The cost is $200 for all 20 sessions, $100 for just the 10 morning or just the 10 afternoon sessions, and $15 per session for occasional use.



Mille Grazie to our 2023 Camp Sponsors!
Diamond Sponsor ($2,500)
Columbian Club Charitable Foundation
Platinum Sponsor ($2,000)
Paul Basile & Sheryl Bloom
Gold Sponsor ($1,500)
Supreme Lobster & Seafood Inc.
The Turano Family
Silver Sponsor ($1,000)
Elevator Inspection Services
Domenico Gambino and Family
Italian American Executives of Transportation
Charles J Porcelli  Family
Bronze Sponsor ($500)
Angelo Caputo's Fresh Markets
Sebastiano & Angela Mentesana
To become a sponsor, contact Paul Basile at 847-676-3134 or basilepaulm@gmail.com.