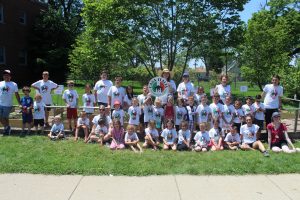 A whole new world of learning and fun awaits your children at Casa Italia's 2020 Italian Language & Culture Summer Camp presented in partnership with Concordia Language Villages.
June 22-26 & June 29-July 3
If you want to send your kids to Italy this summer while keeping them close to home, Casa Italia has the summer camp for you! Our camp introduces children ages 4 to 13 to the best that Italy has to offer through a wide range of activities on our beautiful and secure grounds.
Your children will spend two full weeks exploring the language and culture of Italy through games, songs, skits, and formal and informal lessons. Activities can include music, theater, dance, archeology, cooking, baking, chess, Italian table games, bocce and soccer.
Our camp will be staffed by Lago del Bosco, the Italian camp at Concordia Language Villages, an internationally renowned summer language program in Minnesota.
Concordia's language camps are university affiliated; their counselors are thoroughly vetted, certified and trained; and their programs have been perfected over the course of six decades.
Our camp will run Monday through Friday from 9:30 a.m. to 3:30 p.m. Fees cover a nutritious lunch, snacks throughout the day and a complimentary T-shirt. The camp will conclude on July 3 with a performance by the children and a family picnic luncheon.
Extended hours are available from 7-9:30 a.m. and from 3:30-6 p.m. for a fee of $10/hour. 
For more information, call 847-676-3134.
We look forward to seeing your children at Casa Italia this summer!
Early Bird Rate: $475
(Must register by May 1)
For a downloadable flyer, click here.
Forward our web link to anyone who might be interested in sending their children, grandchildren or great-grandchildren to our wonderful camp!
________________________________________________________________________________________________________________________________________________
Testimonials