Advancing Women Artists Foundation in Florence, Italy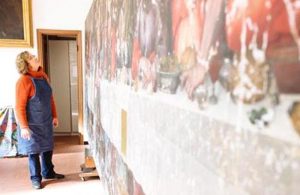 AWA researches, restores and exhibits art by women in the city's museums.
Here is the story of Plautilla Nelli, a true Renaissance woman and Florence's first woman artist.
We just inaugurated Nelli's first-ever solo show at the Uffizi Gallery, and have simultaneously launched a campaign to restore her precious Last Supper…  the largest painting by an early woman artist in the world!
I'd like to invite you to view the following short videos so you can get a 'visual' sense of the project.
The first (3 minutes) discusses the restoration of Nelli's Last Supper
http://theflr.net/nelli-crowdfunding
The second spotlights AWA's 10-year quest to salvage Nelli's works.  It is currently showing at the Uffizi exhbition.
https://www.youtube.com/watch?v=B-uRmRsKKGI
Sincerely,
Carol Faenzi
USA Director of Advancing Women Artists Foundation
​